Temporary Fencing Rental in Sacramento, CA
Fencing a property can be very costly and labor-intensive. However, if you want to fence a place for either an event or construction temporarily, you do not need to go for a long-term kind of fence. Temporary fence rentals allow you to provide a solid barrier and protect your site without a permanent fence structure. They have become more popular over time and help you cut down on cost and all the labor involved in fencing.
In this article, we will look at the types of temporary fences available, the materials used, how much it would cost you, and all you will need to know about temporary fence rentals.
Materials and types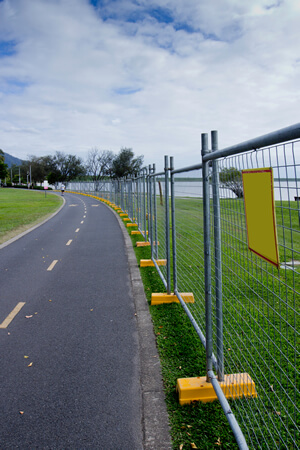 Temporary fences come in several different varieties, offering you a range to choose from depending on your needs. Different materials are also used in making the fences. However, it is important to note that all offer you security for the purpose you'll need them for.
Before settling on a temporary fence, you should consider and determine why you need it and the goal you intend to achieve with the fence. Below, we will take a deeper look at and discuss some of the most common types of temporary fence rentals available in the market.
Fencing panels
If you are looking for something temporary that will offer you the benefits of a chain-link fence, but without the trouble of all the installation, then this is your go-to fence. The panels resemble chain link fencing. They are made from durable steel in 10- and 12-foot widths. They also come in different heights: 4, 6, and 8 feet, which allows you to choose according to your site needs and what will suit you best.
They create a tall barrier that is difficult to pass, making them very secure. To increase the functionality and durability of these fencing panels, you can add sandbags, privacy screens, and even gates. This is the most common type of temporary construction fence available.
Barricades
These are generally lighter in weight and shorter compared to the fence panels. This makes them easier to maneuver into place, meaning that their installation is very easy. Strong, galvanized steel is used in the making of barricades. They are so strong that they can stand up to aggressive crowds if needed making them excellent for events.
They are also used as temporary bike racks and are therefore referred to as "bike fencing" sometimes. Temporary barricades are easy to hook together to create the boundary you need. This allows you to easily set them up and take down, especially for one-day events. You can use barricades to also establish boundaries for races and even concerts. The crowds will be able to see all the action while staying away from it.
Orange fencing
This temporary fence is excellent for fencing off places where heavy machinery or other dangerous tools may be used. It is made from strong plastic mesh. This warns people to stay out of the area. You can also use orange fencing instead of fencing panels if you are looking for a lightweight alternative. You can also use both if you have a complex site.
This fence ensures that your crew is safe and away from the construction danger zones. You can also use this type of temporary fence as an add-on to your other site's services, such as storage containers, portable toilets, and portable offices.
Costs
Renting temporary fencing instead of buying one has become more popular in the past few years. This enables you to keep your costs down and save some coins since you will only pay for the fencing you need as you are using it.
The cost of renting a temporary fence varies depending on a few factors such as the type of fence, height, and length you need, the length of time the rental occurs, and any other additional equipment that will be put up during the rental, such as posts.
When calculating your costs, you should keep in mind that you will be charged for both the delivery and setup. Therefore, do not be shocked when a setting up or installation fee occurs. It would be best if you also considered getting insurance. This will help you avoid any extra costs should someone be injured or the fence gets damaged. You will not be liable for the financial issues associated with it if you get insurance.
Choose a date that will work for you favorably. For instance, if you want to rent for a weekend event, you can go to a company that offers day rates. However, if it's for a construction site, it would be wise to go for a company that offers monthly fixed rates.
Sizes
The temporary fence rentals come in different sizes to accommodate all your needs. You can, therefore, choose the size depending on the purpose you need them for. They may vary in terms of height, width, and even thickness. The difference in size offers you variety. You can check on the types as we have mentioned the difference in sizes.
Uses
Temporary fences are mostly used in construction sites as it is a requirement of the state and even federal laws for safety purposes. They are also used for outdoor events and festivals to create barriers and control crowds.
Who can rent
Temporary fences can be rented by anyone who has a project running that requires short term fencing as opposed to long-term. It can either be a construction site or even events.
Sacramento
Sacramento is the heart and city of the state of California. It has affordable housing and an amazing social scene, especially if you are a party soul. This makes it the best place to live in California. Honestly, if you are looking for a cost-effective place to live in and raise your family, this is the city for you. If you are in Sacramento and are looking for temporary fence rentals for either your house construction or any event you are hosting, feel free to contact us.